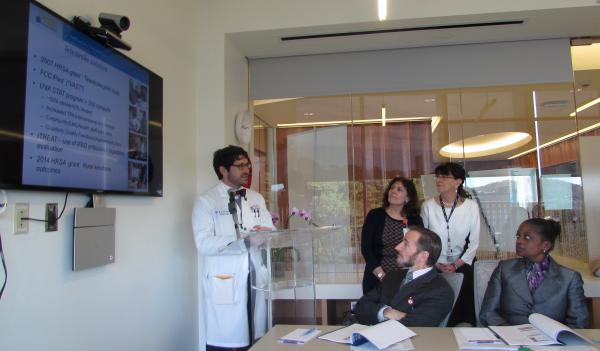 By Annie Keller
Published April 14, 2020
The coronavirus outbreak has led to a surge in telemedicine. Remote and virtual doctor's visits increased by 50% in March as compared to the previous month. It's estimated that by the end of the year there will be over 1 billion telemedicine appointments.
Previously, in-person visits were preferred by patients and their doctors. The idea of an online doctor's visit is new, and most patients simply preferred to see doctors in person whenever possible. The coronavirus disease (COVID-19) pandemic has changed that. The expanse of digital health is huge. The Catalyst Health Network in Plano, Texas is now taking from 10,000 to 12,000 virtual appointments a day. Some people who work there estimate 80% of future visits will be done by telehealth. It's not just their network, either. The Cleveland Clinic has seen virtual visits explode fifteenfold over the past month. Jefferson Health Center in Philadelphia has had a twentyfold increase in virtual visits, and there are so many requests for virtual visits at the nearby University of Pennsylvania hospital that doctors are struggling to meet the demand.
Virtual health visits have several advantages over in-person ones. Virtual visits are convenient to patients, as they save time of transportation and waiting and associated costs. Virtual doctor visits also minimize the exposure to infectious diseases for the patient and medical staff. In addition, virtual visits enable medical staff to serve more patients in the same time and allows access to remote expertise that may not be easily accessible otherwise. It seems that insurance providers are also understanding the advantages of virtual visits. Telehealth visits through Medicare were initially restricted to seniors in rural areas, but they were recently expanded to anyone eligible for the insurance.
It is possible that even after experiencing the convenience of the virtual visit, most people may go back to wanting to be seen in person. Most reports indicate that people have adapted well to virtual visits, and patients appreciate not having to drive to the office. Extensive physical exams are still one thing that cannot be done virtually, whereas post-surgery follow-up reports can easily be done that way. But it's clear that the potential of the virtual visit is there, and its advantages can be clearly lain out for those who are uncertain. Those who get used to it may choose not to go back to the old way, which may have an impact on some jobs in the healthcare field, as we are reporting in this series.