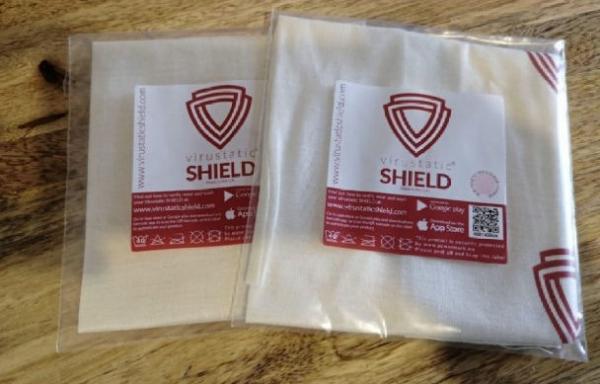 By Subrina Jesmin Arai MD, Ph.D.
In the UK, Carrington Textiles has been researching to come up with a solution to tackle coronavirus. Carrington's main manufacturing facility in the UK is Pincroft. Now, Pincroft has teamed up with a UK-based biotech team to develop a face covering with technologies to prevent virus transmission.
The face covering is made with technologies that can prevent and protect against airborne virus transmission, including infections such as influenza, MERS, and COVID-19. This is the result of a 10-year research and development project.
In the meantime, Wearwell, a British workwear manufacturer, has begun making a "germ trap" face mask on a large scale for another UK-based biotech company called Virustatic. Their new mask is called a Virustatic shield.
The entire process has been expedited to quickly manufacture the germ trap face coverings in response to the coronavirus outbreak. Paul Hope, an inventor of the germ trap face covering, stated that the material is treated with a relatively new coating known as ViruferrinTM, which claims to provide antiviral protection. In addition, people can touch the face covering and even wear it without any fear of infection. The main reason for that is, coronavirus will be rendered inactive if it comes in contact with the fabric.
The germ trap fabric has been highlighted by Manchester University for a specific reason. The reason is to describe the antiviral characteristics of this protein layer. According to Prof Sabine Flitsch, the exterior portion of the substance is adhesive to viruses. On top of that, the material itself is powerful enough to inactivate the virus when it binds with the face covering.
Material treated with Viruferrin has been called a "virustatic shield." This shield is lightweight, breathable, and comfortable to wear as a face covering to prevent the spread of infection. The company claims that its new face-covering will trap 96% of airborne viruses and provides 50 times more wear compared to a one-time-use mask.
When any virus enters the human body, the spiked structure creates a bond with the protein layer available in the respiratory tract. This is where the virus begins invading other cells. As such, when the virus is in close contact with the face covering, an identical chemical reaction occurs. Because there are no cells to invade on the fabric, the virus meets its demise.