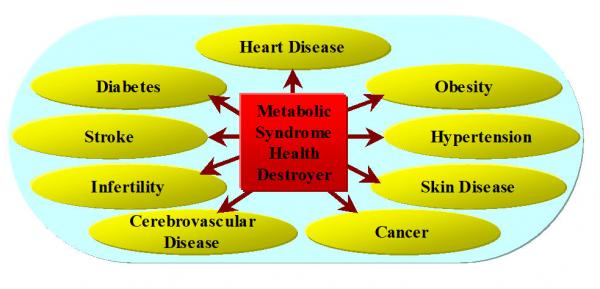 By Subrina Jesmin Arai MD, Ph.D.
With the transition of time, do you know we are moving towards a world of non-communicable diseases so-called chronic diseases with a successful conquest of communicable infectious diseases? If you overlook the lifestyle-related metabolic disease, you will pass through a life-long chronic health disability. Metabolic syndrome is defined as a cluster of metabolic abnormalities, and this disease entity poses a substantial risk to an individual to develop cardiovascular disease (CVD). Metabolic syndrome doubles the risk of having CVD in comparison to individuals without metabolic syndrome. Individuals with metabolic syndrome have a higher risk of illness and death from CVD, coronary heart disease, stroke, and vascular dysfunction.Several health organizations, both in regional and global aspects, have outlined diagnostic criteria for metabolic syndrome. The main risk factors for metabolic syndrome include obesity (waist circumference or BMI), triglyceride levels, cholesterol (high-density lipoprotein [HDL]) levels, hypertension, hyperglycemia, and sometimes urine albumin or albumin: creatinine ratio. Insulin resistance , which can be explored by various methods, is the most critical condition associated with the deadly quartet: increased blood glucose, excess of body fat, increase in blood pressure, and cholesterol abnormalities.
Aging and genetic factors also play crucial roles in the development of metabolic syndrome. Although age and genetics cannot be changed, there are several lifestyle changes that you can make to avoid metabolic syndrome.
First, eating in a better and balanced way is highly recommended. A meal consisting of whole grains rich, sufficient fruits, vegetables, lean meats, skinless poultry and non-fried fish, and low-fat or fat-free dairy products are beneficial. Try to avoid processed foods, which have high saturated and trans fats, sodium, and added sugar.
Second, having a habit of daily physical activity (even mild exercise) is useful. A recent study found that walking 3-km daily could improve (lower) HDL levels, which is highly protective of heart disease (Subrina et al., in press, 2020). For developing country context, where the healthcare resources for diabetes detection are weak, only five months daily walking of 5 km is sufficient to normalize in hyperglycemia in newly diagnosed diabetes cases greatly.
Obesity is the central factor of metabolic syndrome. Calculated calorie intake is the key to keep your body weight in the normal range. Thus, a combination of required calorie intake and regular physical activity is a potential lifestyle intervention to struggle with metabolic syndrome and to combat the development of its associated complications.
We know that active management of metabolic syndrome can also help with the prevention of coronary artery diseases. Earnest efforts are ongoing to secure a well-organized panel of biomarkers for clinical practice from the early detection and risk stratification. Thus, future large-scale research is needed to identify potential biomarkers to aid in the diagnosis and treatment of patients with metabolic syndrome.