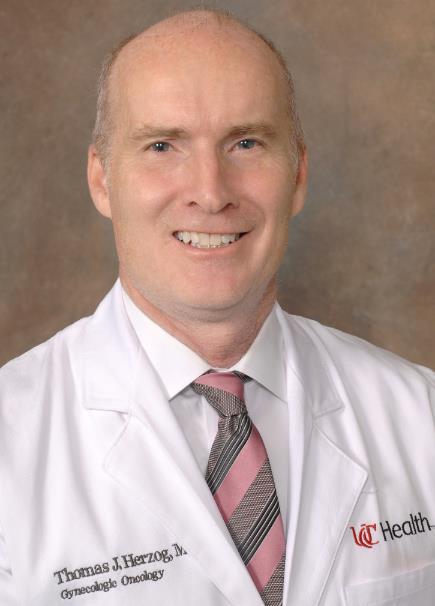 AHIS Scientific Committee
Thomas Herzog, MD
Deputy Director, University of Cincinnati Cancer Institute and The Barrett Cancer Center
Paul & Carolyn Flory Endowed Professor, Obstetrics & Gynecology, University of Cincinnati
Vice-Chair Quality & Safety, Obstetrics and Gynecology, University of Cincinnati
Former Director, Gynecologic Oncology, Columbia University Medical Center
Former Associate Professor & Director of the Fellowship Training Program, Washington University School of Medicine
Editor, Gynecologic Oncology Research to Practice; Editorial Board Member, Gynecologic Oncology, Obstetrics and Gynecology International, and Hematology Oncology Times
International Gynecologic Cancer Society Board Member
Former Leadership Council Member, Society of Gynecologic Oncology and Foundation for Women's Cancer
Board of Governors Member, American College of Surgeons
Board of Directors, GOG Partners
Dr. Thomas Herzog is the Deputy Director of the University of Cincinnati Cancer Center. He is also Vice-Chair of Quality and Safety for Obstetrics and Gynecology, University of Cincinnati College of Medicine.
From 2004 to 2014 he was the Director of Gynecologic Oncology and the Physicians & Surgeons Endowed Professor of Clinical Gynecology and Obstetrics at Columbia University. He also was the Fellowship Director in Gynecologic Oncology for Columbia & Cornell Universities and New York Presbyterian Hospitals. Prior to 2004, he was as an Associate Professor, and the Director of the Fellowship Training Program at Washington University in St. Louis. He is Secretary Treasurer of the GOG-Foundation and is Associate-Director of GOG Partners.
Dr. Herzog has authored/co-authored over 300 peer-reviewed articles and lectures extensively nationally and internationally. He serves or has served on the editorial boards of Gynecologic Oncology, Obstetrics and Gynecology International, Hematology Oncology Times, and others.
He served as Editor–in chief of Women's Oncology Review and Gynecologic Oncology Research to Practice. Dr. Herzog has served on the board of directors or leadership council of the Society of Gynecologic Oncology, the Foundation for Women's Cancer, Board of Governors for the American College of Surgeons, American Board of Obstetrics and Gynecology, and the International Gynecologic Cancer Society.